In Memory
Leslie Allan Davis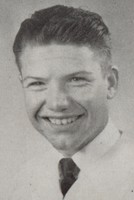 Born in Sweetwater, Texas, the youngest of three sons to Lille Marea (Momma Rae) Walls and Willie Eugene (Pappy) Davis.
The family moved to Odessa just before Leslie began the second grade. His father was a car wholesaler and his mother worked at J.C. Penney's. Leslie attended Cameron Elementary, Crockett Junior High and Odessa High School. He was a gifted athlete and musician. He played drums in the Odessa High School Band. He graduated in 1965 and entered the Navy in June 1965 following in his two older brothers steps. He had the intention of making it his career.
He was an Structural Aviation's Mate. He served aboard the USS Bonhamme Richard, CVA 31. In February, 1967, the Bonhamme Richard was serving at Yankee Station off the coast of North Vietnam making bombing strikes against North Vietnam. Leslie Davis was serving on the launching crew. After a plane was launched, Davis went onto the deck to check the launching cable. The next aircraft that was staging accidentally launched a rocket and it came down the flight deck and struck Davis in the stomach. He was medevaced to Da Nang where he was treated and transferred to Corpus Christi, where he underwent treatment and several surgeries. He lost about 1/4 of his stomach and a foot and 1/2 of his intestines. He was able to return to duty on the Richard and was medically retired in 1969 with 100% disability.
He attended barber school and married Brenda Bailey in January 1972. She passed away the following year from Hodgin's Disease. Leslie married Edith Baumstimler of Odessa in 1974 and they were the parents to one son, Brandon. They divorced in 1980.
Leslie continued to barber and was a member of a West Texas Band, named "Shalako". He played rhythm guitar and was a vocalist. The band enjoyed success in the Country Rock chandre. He married Judy Bell in 1984 in Andrews, where he moved his barber shop. They later moved to San Angelo, where Leslie retired as a barber and worked at the the State Home in Carlsbad, Texas.
He died from complications following gall bladder surgery. He was cremated. He was predeceased by his parents. He was survived by his wife, Judy, an adopted daughter, his son, brothers, Bob of Odessa and Tim of Florida.
From FAG on line