In Memory
Lonnie Gardner Lovell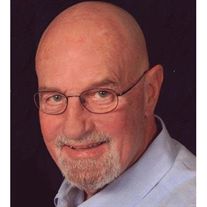 Lon Lovell went home to God on Wednesday, October 21,2015 after a brave battle with cancer. He was born in Cleveland, Alabama on November 5, 1947 and moved to Odessa, Texas in 1961. After graduating from UTEP he began his career as a CPA, moving to Dallas in 1972. He is survived by his loving wife of 38 years, Kathy Lovell; brothers- Stephen, Lowell and Ashley; son-Steve Lovell and their respective spouses. He was passionate about his church music ministries, his ACTS community, baseball and his son's activities. He will be greatly missed by his family, church community and many friends.

The visitation for Lonnie Lovell will be on Sunday, October 25, 2015 from 3:00 PM to 5:00 PM at Restland Funeral Home.

Rosary and Mass of Christian Burial for Lon will be at St. Patrick Catholic Church at 9:30 AM on Monday, October 26, 2015.

Funeral arrangements have been entrusted to Restland Funeral Home and Memorial Park, 13005 Greenville Avenue, Dallas, TX 75243 at Restland Road.

Donations in lieu of flowers may be given to St. Patrick ACTS.