In Memory
LaDonna Lee Monroe (Schillinger)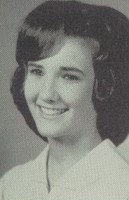 La Donna Lee Schillinger went to be with the Lord on February 19, 2012 at age 65. She valiantly fought the crippling effects of Alzeimer's Disease with a positive spirit and faith.
Born in Odessa, Texas on February 12, 1947 to Bill and Elaine Monroe, she spent her childhood in the oil camp of North Cowden. She attended Odessa public schools, graduating from Odessa High School in 1965, continuing her education with a business degree. Donna was employed wtih Abbott Building Company in Odessa for 11 years where she met her husband Bob in 1983.
Donna and Bob were married on November 18, 1983. She and Bob and her son Scott moved to San Angelo in November of 1983. Beginning in December of 1983 she started a long career with Hirschfeld Steel Company that lasted for over 25 years, making many friends along the way.
Donna is survived by her husband Bob, her son Scott Ward and wife Michele, and granddaughers Kate and Lauren of San Angelo. Also surviving is her stepdaughter Melissa Halfmann and husband Tommy and grandchildren TJ and Hope of San Angelo; Natasha Perreira and husband Adam of Abilene, and Benjamin Dickson of Rapid City, South Dakota. She is also survived by two great grandchildren Autumn and Summer Perriera.
She was preceded in death by her parents Bill and Elaine Monroe, her sister Sandra Wilson, and her stepson Bill Schillinger.
Services will be conducted at 10 a.m. Wednesday, February 22, 2012, with a private Internment following in Odessa at Sunset Memorial Gardens.
Published in the Odessa American, Monday, February 21, 2012.