In Memory
Sandra Gay Rogers (Duzan)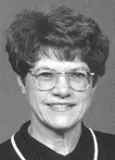 Sandy Duzan, 57, passed from this life Sunday, August 29, 2004, at Medical Center Hospital.
She was the fifth child born to Samuel M. and Nellie J. "Jackie" Rogers on October 18, 1946 in Longview, Texas. She married Robert L. Duzan on April 27, 1996 in Odessa. She worked for the Texas Commission for the Bllind. She was a faithful member of Sherwood Church of Christ.
She is survived by her husband, Robert L. Duzan; mother, Nellie J. "Jackie" Rogers; stepson, Kevin Duzan and wife, Kathy; stepdaughter, Shelly Roggendorff and husband, Paul; and her grandchildren, Nick, Sydney and Taylor Duzan and Chris Roggendorff. She is also survived by her three brothers, Royce Rogers and wife, Sue, Ronny Rogers and wife, Carol, and Sam Rogers; three sistsers, Ruth Buchanan, Glenda Weaver and husband, Curis, and Peggy Odom and husband, Virgil; her aunt, Annie Jo Counts; and numerous nieces and nephews. Sandy will be greatly missed because she spent her life loving and serving others. There will be a visitation from 7 p.m. to 9 p.m. Tuesday, August 31, 2004, at Hubbard Kelly Funeral Home.
Services are scheduled for 4:30 p.m. Wednesday, September 1, 2004, at Sherwood Church of Christ with Lynn Morey and Barry Galindo officiating. Burial will follow at Sunset Memorial Gardens. Her nephews will serve as pallbearers.
In lieu fo flowers, the family requests that memorial contributions be made to Odessa Christian School, 2000 Doran, Odessa, TX 79761.
Services entrusted to Hubbard-Kelly Funeral Home.