In Memory
Garry Wayne Vaughn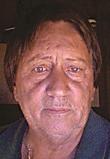 Garry Vaughn
Abiding under the Shadow of the Almighty is Garry Vaughn, our beloved Father, Grandfather, Brother, Friend, and Husband. Mr. Vaughn, 67, a long time resident of Odessa, TX, passed away on March 6th, 2014. He was born January 10th, 1947 in Gorman, TX to Billy Wayne Vaughn and Gaylain Sevena Grabowsky.
Garry served in the Army Reserves. His education included undergraduate studies in Engineering and Math at Odessa College and Texas Tech. He worked as a Microwave Specialist and Broadcast Engineer in West Texas for Bell Telephone, AT&T, Claydesta, and Broadcast Call.
Garry was a Christian spiritual warrior and a bright point of Light to all that knew him. He mentored many to walk the path of truth and faith with unwavering dedication and patience. Garry set the standard as an exceptional Father, Friend, and Husband and will be missed by so many.
Garry is preceded in death by his Father Billy Wayne Vaughn, his Mother Gaylain Sevena Grabowsky, his Brother Michael Vaughn, and his Beloved dog Jake. He is survived by his wife Denise Hayward of Odessa, TX; his son Patrick Wayne Vaughn and wife Karen of Lubbock, TX; his son Kevin James Vaughn and wife Nichole of Lubbock, TX; his daughter Amy Elizabeth Vaughn of Lubbock, TX; his Sister Mary West and husband Rick of Odessa, TX; his Brother Donald Peters of Odessa, TX; his Dear Friend Carol Seibert Vaughn of Lubbock TX; his six grandchildren; and his Dear dogs Kelly, Yaqui, Buddy, and Bonnie.
'As I pray, I am stayed.'
Memorial service is being held at Odessa Funeral Home Chapel on Sunday, March 9th at 3:00 pm with Jimmy Braswell officiating. The family suggests memorial contributions to a charity of your choice be made in his honor.