In Memory
Nancy Anne Woodbury (Harper)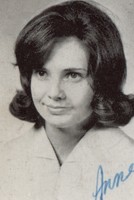 Ann was another extraordinary person. Not many people could measure up to her in my estimation. Before we moved into town, "Odessa.", we lived in Goldsmith. My grandmother operated a beauty shop and my grandfather owned and operated the Gulf Service Station. Anne's father worked for Gulf and was a production foreman. They lived in the old Gulf Camp about 1/2 mile east of Goldsmith. In the 50's the camp had about 75 or so houses there and was almost a little city in of itself. Eventually the oil companies had to quit providing housing for their employees and many employees bought their old camp house and moved them out in West Odessa or into Goldsmith. Ann's home was absolutely the last house in the camp and the family eventually moved out to West Odessa. I think it was before we graduated. So I had known Ann since we were pre-schoolers. I went to Goldsmith Elemenatary for the 1st and 2nd grades. Ann and I always were in different rooms, but even after my family moved into town, I still spent the summers in Goldsmith and would see Ann at the swimming pool.
I attended Crockett Junior High School for a short time. Ann was voted as a 7th grade cheerleader. I remember thinking Ann just makes her own way, even then. I couldn't fathom a girl coming out of Goldsmith into the big city junior high at Crockett and within weeks, she was already a cheerleader.
Ann continued to excel at OHS and she was recognized very early. She was a cheerleader her junior year and Head Cheerleader her senior year, she was voted Miss OHS, our senior Year and was first runner-up for Homecoming Queen, She was on the Annual Staff and was the Editor of the Corral our Senior Year. She was just an all around All American Girl and had the personality to match her accomplishments. There wasn't a category for Best of and as such Ann had to be considered for that Title.
After high school, Ann attended McMurry University in Abilene. I lost touch with her after that. I don't know exactly what happened to Ann in the years after high school, someone else has to fill in the gaps. I can remember distinctly when I read her death notice in the Odessa American. I just remember thinking it couldn't be Ann, but sadly it was. She died of some type of rare cancer on August 4, 1997 in Colorado. I don't have any information on her final resting place, but I understand she was laid to rest there. I hadn't seen her folks very much when they moved into town. Ann had an older brother and he passed away as well as I remember.
Ann was just above the rest of the crowd. I am privileged to have known Ann and to have had her as a childhood friend.